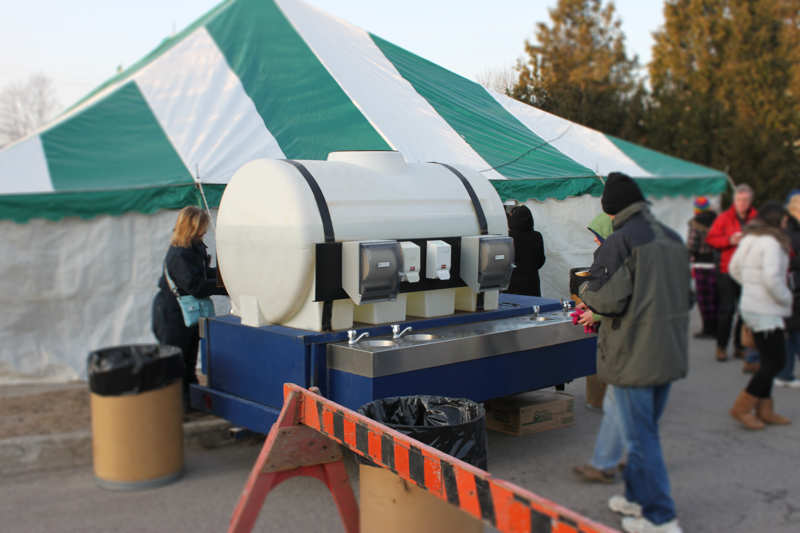 Sink Trailers for Event Sanitation
The Handwash Station / Sink Trailer from Explorer is designed as a self-contained unit which allows outdoor event crowds to have easy access to warm water. Stainless steel sinks and counters, with self-closing water saver faucets are simple to clean and maintain. Large water and grey-water tanks ensure plenty of use before the need to discharge and recharge.
All built onto a commercial grade trailer chassis for easy towing. Custom painted steel frame with locking diamond plate utility doors which house the water heater and pressure pump. Decal and branding options are available.
Removable Tongue 8 Sink Trailer
Model: #TF688L Portable Handwash Station
Fresh water: 225 US gallons, horizontal poly tank
Grey water: 250 US gallon, galvanized holding tank, 2" valve
Counter tops: stainless with eight sinks – 12"diameter
Faucets: self closing metered water saving
Dispensers: (4) stainless steel paper towel, (4) soap
Utility compartment: 32"H x 16"D x 44"W with (1) access door, lock
Water Heater: 5 US gallon, 500W, 110V
Electrical: 15 AMP, 120V power cord
Supply pressure: 110V demand pump with pressure reserve tank
Trailer frame: structural steel with removable tongue, 2"coupler
Running gear: 3500 lb. Rubber torsion axle, 5 bolt, 175180R13 tires
Stabilizer jacks:  (2) front fold up
Finish: epoxy primer with polyurethane top coat
Option: propane hot water, 12v demand pump, faucets, mirrors, etc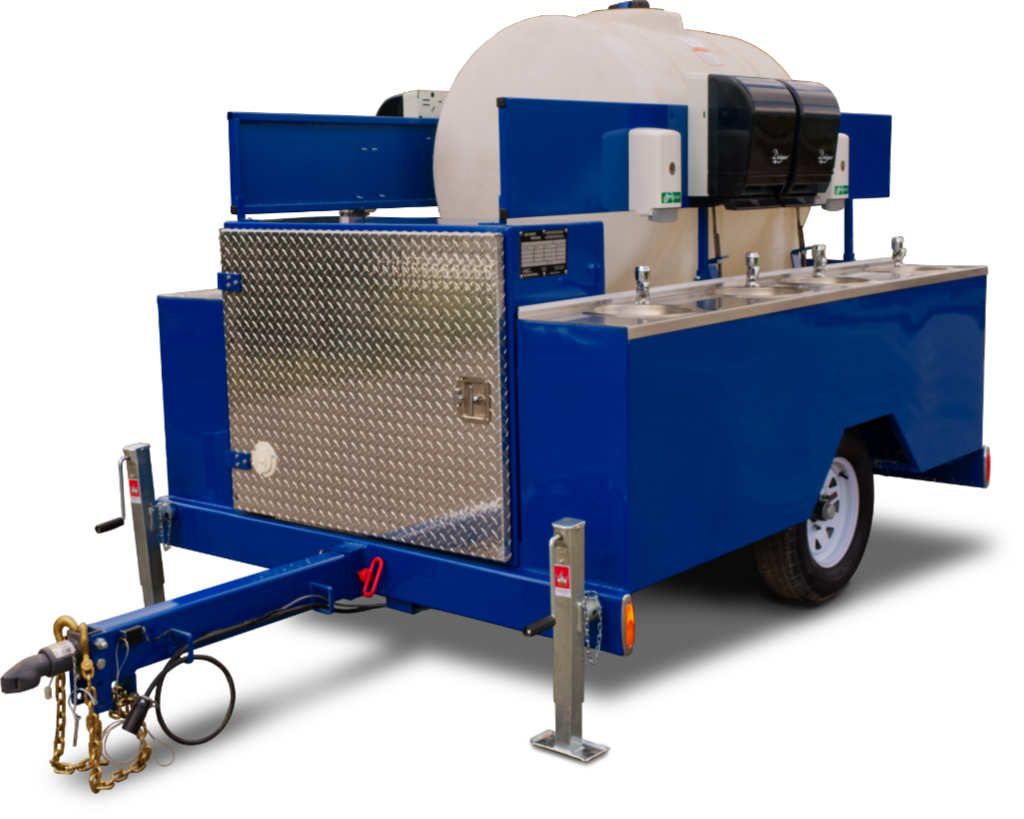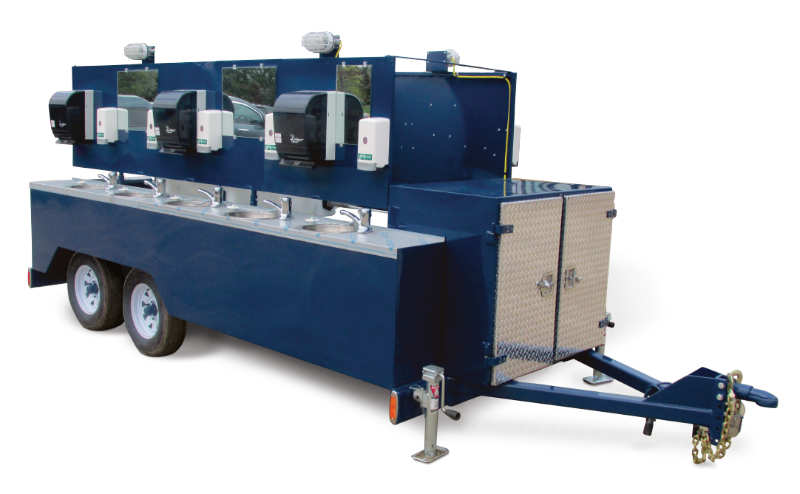 Deluxe Model Sink Trailer
Deluxe 10 Sink Handwash Station
with Upgraded Mixing Faucets,
Vanity Mirrors & Exterior Lighting
Standard 8 Sink Trailer
Model: #TF688 Portable Handwash Station
Fresh water: 225 US gallons, horizontal poly tank
Grey water: 250 US gallon, galvanized holding tank, 2" valve
Counter tops: stainless with eight sinks – 12"diameter
Faucets: self closing water saving
Dispensers: (4) stainless steel paper towel, (4) soap
Utility compartment: 32"H x 25"D x 44"W with (2) access doors, lock
Water Heater: 30 US gallon, 500W, 120V, with mixer valve
Electrical: 15 AMP, 120V power cord
Supply pressure: 120V demand pump with pressure reserve tank
Trailer frame: structural steel with A frame tongue, 2"coupler
Running gear: 2200 lb. Rubber torsion axle, 5 bolt, 175180R13 tires
Stabilizer jacks: front tongue jack with (2) front fold up
Safety standard: 2200 lb GVW, light package, safety chain
Finish: epoxy primer with polyurethane top coat
Option: propane hot water, 12v demand pump, faucets, mirrors, etc

Visit Us
20 Martins LN
Elmira, ON N3B 2A1